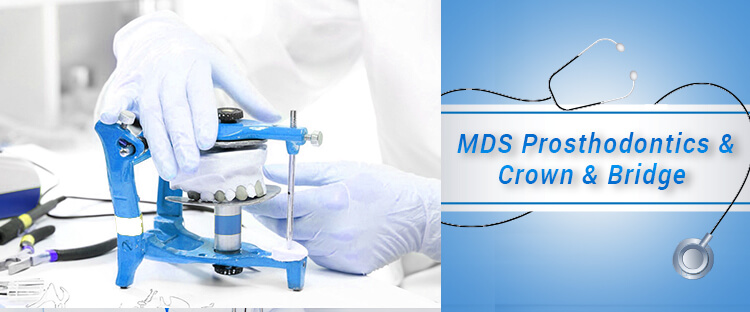 MDS. in Prosthodontics and Crown & Bridge

Instructor :

DR. N.S. AZHAGARASAN, MDS.,
MDS. in Prosthodontics and Crown & Bridge

The MDS in Prosthodontics and Crown & Bridge is a three year Postgraduate program. This training program is structured to achieve knowledge and skill in theoretical and clinical laboratory, attitude, communicative skills and ability to research with understanding of social, cultural, educational and environmental background of the society.

Prosthodontics can be used to restore single or multiple teeth, spanning areas where teeth have been lost. In general, the main advantage of fixed prosthodontics when compared to direct restorations is the superior strength when used in large restorations, and the ability to create an aesthetic looking tooth.
The postgraduates will be able to provide Prosthodontic therapy for patients with competence and working knowledge with understanding of applied medical, behavioral and clinical science.

Three years from the date of commencement of classes.
Admission Criteria are established by the college. To be considered for admission, you should have completed a five year Bachelors of Dental Studies(BDS) from a Dental Council of India accredited college or university prior to beginning postgraduate studies.

You should have earned good scores or grades in all prior undergraduate college-level coursework. A 2-3 page sample of your best writing for further evaluation of your professional and research skills. This could be a short paper, an excerpt from a longer paper, a report from your place of employment, or a medical writing sample (e.g. a lab report, a research report etc.)